Raw, Unpasteurized, Unprocessed goodness

It is local. It is an experience. It is an obsession. It is kombucha tea. It is MY BOOCH!
I have always been interested in health, fitness and well-being. Shortly after moving to Nashville in 2005 I was introduced to kombucha tea - I was hooked at first sip.  I loved the tart sourness, fizzy feel and lingering refreshment. Right away I began brewing kombucha tea.
So why "Booch"? My then two year old daughter called the drink 'booch', as this was considerably easier than 'kombucha'.  One day I took her sippy from the kitchen table thinking she was finished.  When I did she exclaimed, "My booch!" 
I am excited to be a local provider of such a health giving product!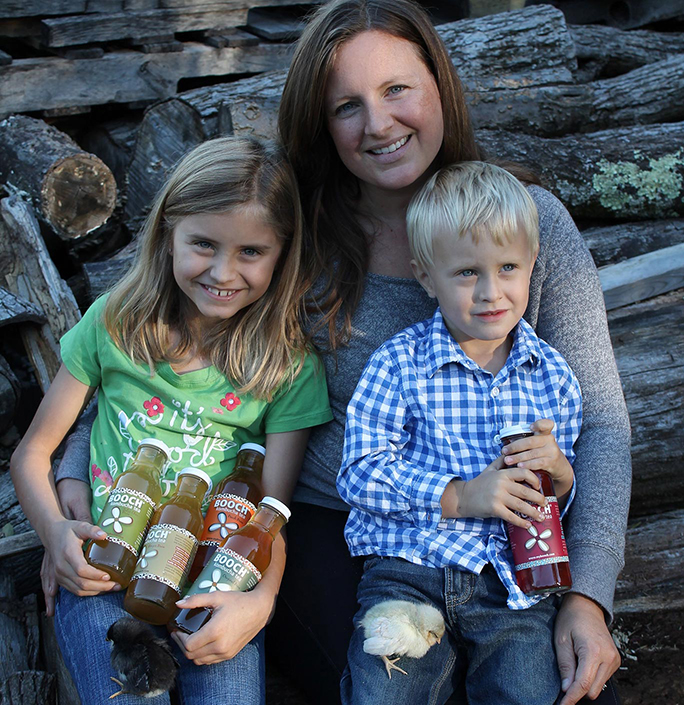 What is Kombucha Tea?
Kombucha tea is a fermented tea beverage that detoxifies the body and builds the immune system. Sweetened black tea is transformed into a slightly fizzy, sour drink during a 3 week fermenting cycle. In the process, virtually all the sugar is transformed into other compounds.
Benefits of Kombucha Tea
Kombucha is rich in B vitamins and a substance called glucuronic acid which binds up environmental and metabolic toxins so that they can be excreted through the kidneys. Glucuronic acid is a natural acid that is produced by the liver. Kombucha supplies the body with more and boosts the natural detoxification process. Kombucha contains many different cultures (think probiotics in yogurt!) along with several organic acids, active enzymes, amino acids, anti-oxidants, and polyphenols.
Beneficial Ingredients
Lactic Acid: essential for the digestive system
Acetic Acid: inhibits harmful bacteria in the body
Malic Acid: detoxifies the body
Gluconic & Butyric Acid: effective against yeast infections
Amino Acids: A group of acids which are the building blocks of protein. The muscular system is made of proteins. As a group they have many benefits including building cells and repairing tissue; they also form antibodies to combat invading bacteria & viruses
Enzymes: Are proteins that act as catalysts, speeding the rate at which chemical reactions happen in the body
Where did it come from?
Kombucha tea originated in Asia and Russia. The tea naturally ferments with live active cultures to help the body maintain balance and heal oxidative damage.
Brentwood/Franklin

---

Donelson

---

Nashville

---

Nolensville